Stepmother "Calvary Greetings" LP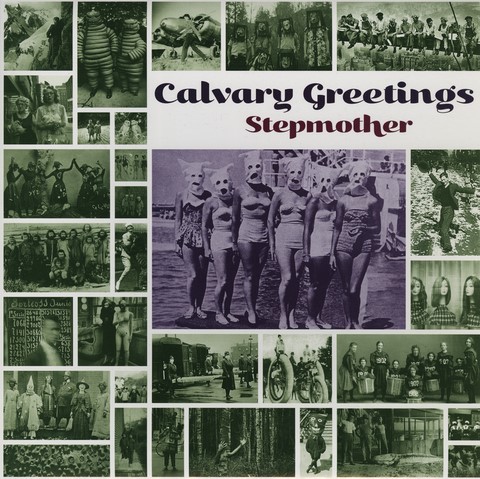 Stepmother is Lukas Simonis (Dull Schicksal, VRIL, Coolhaven …), Jeroen Visser (Kazanchis, morFrom …), Bill Gilonis (The Work, The Hat Shoes, Hail …) and David Kerman (5UUs, Present, Thinking Plague, Aranis …). Anglo-American-Dutch post-punk prog rock and experimental soundscapes with a dash of Monty Python thrown in. A reunion of an 80s band that never existed (but should have): twangy guitars, nifty keyboards, zany drumming, vocal histrionics à la The Rutles (well, sort of), lop-sided rhythms, regurgitated spam lyrics. What more could you ask for? The journey we are taken on introduces us to mass murderer Curtis Lemay, Serge Gainsbourg, sex ads, neo-liberal communism, Nigerian online scams, neo-Surrealist blabbering and Dickensian psycho fluff. But the record is much more than a sum of its parts – and it's beautifully packed to boot, with artwork by Alfred Boland.

​Now on vinyl! And only 100 copies of violet-colored vinyl available made.
For CD Version Click Here..
01 Calvary Greetings
02:46
03 Access It Before It's Too Late
03:57
04 The Moonlight Visitor
03:54
05 Ever Wanted Your Mum
02:48
08 Laisse Tomber Les Filles
01:37
09 Great Trading Days
04:54
10 Intimacy And Polarity
03:16
11 Malnutrition WIth A Mind
01:58
Release Details
Format: LP
Released: 2014
Genre: Electronic, Rock, Non-Music, Pop, Classical
Style: Experimental, Minimal
Other Records We Offer!
We offer many other records for sale. To see our listing of non-label records please visit us at Discogs.